For over 30 years, South Oakland Shelter (SOS) has been ending homelessness for individuals and families in crisis. Ryan Hertz, CEO at South Oakland Shelter (SOS).
 By Peter Lee, Blockchain Industry Group, and Ryan Hertz, CEO at South Oakland Shelter (SOS) 
 South Oakland Shelter – http://southoaklandshelter.org/
 HandUp – https://handup.org/
LinkedIn Profile: Ryan Hertz
Peter Lee: Ryan, please tell us a little about yourself, the South Oakland Shelter (SOS) and HandUp?
Ryan Hertz: I'm Ryan Hertz, CEO at SOS. We are a non-profit in the Detroit area that provides a variety of programs oriented around ending homelessness both locally and nationally. We recently acquired HandUp, a charitable crowdfunding platform that provides homeless service agencies and their donors with a new, simple, and direct way to make an impact on poverty.
Peter: This is fascinating and very unusual, a non-profit (South Oakland Shelter), taking over a for-profit crowd funding platform (HandUp). Please tell us a little more about how this came about.
Ryan: HandUp was first founded and incorporated as a for-profit Public Benefit Corporation in San Francisco, CA. As a social enterprise, HandUp PBC initially raised $2,000,000 in venture capital to build a platform that would generate both profit and social impact. While the platform does generate some revenue both through donor tips and small transaction fees, after operating the platform for several years the founders recognized that they had not been able to reach a scale that would justify additional for-profit investment.
At the same time, the platform had generated more than $2.5 million in charitable impact for its non-profit partners and their clients, and so the founders sought a solution to preserve and extend the platform's considerable philanthropic impact, despite its lack of sustainability as a for-profit venture.
SOS was already using the platform very successfully as a non-profit partner, and had secured foundation grants to recruit and train other homeless service agencies throughout Metro Detroit in putting HandUp to work for their clients and communities, so the HandUp founders approached us with the opportunity to steward HandUp into its next phase as a strictly philanthropic effort.
This solution was supported by the platform's investors, who were happy to see that the platform would survive. There is a story on this transition published by TechCrunch with some more information at: https://techcrunch.com/2017/10/10/handup-the-startup-that-helps-homeless-people-has-been-acquired/
Peter: Tell us more about the individuals that benefit from your operations at SOS?
Ryan: The primary beneficiaries of our platform are people struggling with homelessness and donors looking for a meaningful way to help. We partner with over 100 charities across the United States who verify and manage online profiles of the people they serve, with specific fundraising goals to help them address financial barriers to securing and maintaining housing.
We also provide these organizations with a campaign tool to raise money to address broader needs of those they serve, such as transportation, healthcare, and more.
Peter: I've done some reading on both SOS and HandUp and I'm 'sold'. How can our members who are donors help? What should they do? For our members who want to donate time/effort, what should they do?
Ryan: HandUp provides opportunities for donors to make incredible impact with whatever level of control is most comfortable for them. Donors can review client profiles and non-profit campaigns at handup.org to donate directly to specific needs, or give to our National Fund at handup.org/funds/thenationalfund which is distributed by our team to specific client profiles and non-profit campaigns to help them reach their goals.
Donors can also support the development and maintenance of the platform at large by donating to the HandUp Fund at handup.org/funds/thehandupfund.
For those who want to donate time and effort, we ask that they find compelling stories of our clients on our website and share them with friends, family, and colleagues via social media. We can always use more help getting the word out about this opportunity to make a big difference for the most vulnerable people in our communities.
We are also interested in connecting with businesses who might be interested in sponsoring the platform or providing matching funds for campaigns.
Peter: What's the one biggest thing people don't know about SOS and HandUp that you wish they did?
Ryan: I wish that people understood how significant their charitable giving can be in changing the course of someone's life. Fundraising goals on our platform include such critical items as security deposits or utility payments that can get a family off the street and even potentially unlock their ability to access other benefits for which they might be eligible, potentially ending their homelessness forever. We have helped folks reach more than 8,000 of these life-transforming goals in their journey to independence and a higher quality of life.
Peter: Can you give us one real life example you find especially memorable of how someone's life has been directly impacted?
Ryan: I think that Rodney's story is particularly memorable. We have a beautiful video telling his story here: https://youtu.be/FafHqHocsxU
Peter: What has surprised you most about your journey with SOS and HandUp?
Ryan: Our non-profit, SOS, was a partner organization of HandUp for several years, utilizing its crowdfunding tools to help hundreds of people in our community to get back on their feet. I was very surprised when HandUp's co-founders approached us to take over the operations of the platform for all of their nationwide partners. It has been a great privilege to be a part of the HandUp story, and we are excited about what is to come.
Peter: How will you reconcile or 'fold' the for-profit activities of HandUp into the non-profit mission of South Oakland Shelter? Is there any hesitation here that the for-profit will somehow 'taint' the nature of your non-profit mission?
Ryan: While the HandUp platform does generate some revenue through donor tips and transaction fees, the purpose of the platform is now strictly charitable, and it is operated entirely under our 501(c)(3) incorporation with no for-profit ownership whatsoever.
All donations to client profiles and campaigns go directly to non-profit organizations, and 100% of proceeds generated by HandUp's tips and transaction fees will be directly reinvested into SOS's non-profit mission, "Building communities that end homelessness," of which HandUp is a part.
Peter: Tell me about the future?  What does SOS/HandUp look like 5 or 10 years from now?
Ryan: We are less interested in technological development of the platform than we are with innovating on how it can be used as a catalyst for bringing organizations together for the purpose of collective impact in their communities.
In Detroit, for example, we formed the HandUp Detroit collaborative, bringing eight non-profits in our region together to fundraise together and meet the emergency needs of over 650 households. In the coming years, we hope to enable similar partnerships in other cities across the United States.
Peter: What is your marketing plan for bringing more organizations together, and possibly on a national scale? If there is something our Members could help with in this regard, what would that be? What would you ask them to do?
Ryan: We hope to extend our HandUp Detroit model, which can be found at handup.org/detroit, to other cities.
We plan to engage high-performing non-profit partners in areas of the country with high need for homeless services in leading collaborative networks similar to HandUp Detroit that will help homeless services organizations of all sizes bring this important resource to vulnerable members of their community.
Your members can help us by identifying and introducing homeless service organizations in their communities to the HandUp platform and to us. Part of the beauty of HandUp is its ability to bring organizations that might otherwise have a competitive dynamic with one another together around what's most important, addressing the needs of their clients and communities.
Peter: This is not directly related to SOS but we should all be thinking of this. How can we save the
earth, this world and humanity? Name one person, company or organization you feel is really having an
impact in this area and why?
Ryan: This is an extraordinarily broad and potentially deep question. As a Hasidic Jew, it is my belief that the world we live in with all of its pain and brokenness is this way so that we may take action and express the highest ideals of human kindness and humility in looking out for one another.
While there are of course so many incredible projects addressing specific existential threats to both humanity and the planet, I think the most important are those that inspire us to focus less on our own material desires and more on the needs of others so that we all may be a part of meaningful solutions.
With this in mind, I will name the Lubavitcher Rebbe, may he rest in peace, who continues to inspire so many to do good in the world, including myself, even after his passing.
Peter: What can you tell us about yourself that our audience probably doesn't know?
Ryan: I'm one of the luckiest people in the world. I get to watch lives transform every day.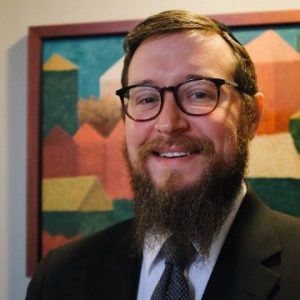 Ryan Hertz
CEO
South Oakland Shelter (SOS)