Bittylicious is the easiest way to buy and sell cryptocurrencies, like Bitcoin, Ethereum and Litecoin. Marc Warne, Director of Bittylicious.
By Peter Lee, Blockchain Industry Group, and Marc Warne, Director of Bittylicious
Bittylicious – https://bittylicious.com/
LinkedIn Profile: Marc Warne
Peter Lee: Hi Marc, at a very high level, how would you describe Bittylicious?
Marc Warne: Bittylicious is the easiest way to buy and sell cryptocurrencies, like Bitcoin, Ethereum and Litecoin. It is coming up to its fifth birthday, making it ancient (and thus trustworthy) in the crypto space.
Peter: I looked at your site, and it's true, it's a super simple site.  I looked for other pages to navigate to but there's barely any other pages besides your core functionality on your home page.
Who devised this strategy and how did it come about?
Marc: Indeed – the rationale is that a user wants to come and buy cryptocurrency, so they get presented with a page showing this.
There is a help section, and this is pretty comprehensive. It's linked to by a question mark in a cirle on the main page, but yes, everything else is super simple.
We developed this strategy from the start. Somewhat, it came about because we wanted to get Bittylicious live quickly, which meant there was no time to liaise with a "real" web designer. However, it seems to now be an approach which sets us out from others.
That's not to say we recognise it might look a little dated. Now there's a little more time available, we are looking into refreshing it, but we'll always keep it simple.
Peter: Who are your target customers and what benefits do you offer them?
Marc: We believe that it's important to get people into cryptocurrency, so those looking into starting with cryptocurrency will find our platform super easy to use. We also absolutely pride ourselves on customer service above everything else, meaning our reviews are rather good.
Of course, we also like to serve more experience and regular users, so also focus on good prices and speed.
Peter: You have multiple countries/regions listed that you serve in addition to the United Kingdom, including the European Union, Netherlands, Belgium and Australia.  What percentage of your business is from the U.K. and what percentage from the rest of the other regions?
Marc: As a UK company, naturally most of our customers are from the UK. I'd say about 80% is UK based, 15% Europe and 5% rest of world. We are expanding though, and have just launched in Australia and shortly Thailand.
Peter: What would you want people to know about Bittylicious that they might not already know?
Marc: That we have been around for five years, have quick KYC turnaround times and fantastic customer service. It's hard to get the word out there when there are much bigger players buying up all the advertising space.
Peter: I like the super simple user interface and functionality.  I also like that you handle 38 or more different crypto currencies.
However, I have to ask, the trading volume appears to be rather low – under several hundred thousand dollars in a 24 hour period.  What are the challenges you're facing in increasing the trading volume and how do you intend to overcome those challenges?
Marc: My best guess is that you're comparing our trading volume to that of major exchanges. On these exchanges, people buy and sell regularly, and keep all money on the system. A better measurement is to find out how much is deposited in fiat but these figures aren't regularly available.
Bittylicious would be better measured that way – we sell coins to the end users. They don't typically sell the coins back, and we don't hold customer money.
In any case, we've seen volumes rise 5-fold since November 2017 so things are on the up. In general though, challenges are still in getting the word out there. People like Bittylicious when they use it, but it's not known well enough.
Peter: On any financial blockchain platform, trust is crucially important.  Tell me about the role of trust on your platform?
Marc: That trust absolutely works both ways. Our users of course have to trust us, but there are so many bad actors there that will happily commit fraud. Companies don't last if they don't spend incredible amounts of time fighting these vectors.
Peter: I'm impressed with how long your company has been around.  Have you solved the fraud problem at this point in time or is it a constant battle?
Marc: Absolutely a constant battle – fraudsters always come up with novel techniques. Having said that, I think we're doing an excellent job and our card processors and brokers are generally very impressed at low fraud rates.
Peter: What have you found is the one most effective technique or tool you've used for fighting fraud?
Marc: We have so many tools used, but in general, our system of limiting how much users can purchase in any time is a classic way to make fraud more expensive to perform.

Peter: In 5 years or more, what does Bittylicious look like?
Marc: That's a big ask – five years is an ice age in the crypto space! Obviously, we're long on crypto, and we see this becoming more and more popular, being accepted in more and more circles and the price increasing. It's rare to find a totally separate asset class so this will continue to interest investors of all sorts.
As for Bittylicious, we will be the number one go to place for cryptocurrency sales and purchases globally, of course!
Peter: You've been around for about 5 years now.  How does your game plan or strategy change in the future?  What will you do to keep up with the competition?
Marc: It's hard to say. In the near future, we have some other cryptocurrencies to add, better ways to cash out and a better design. In many ways, we are well ahead of the competition already, but sitting still is never an option.
Peter: How can we save the earth, this world and humanity?  What are your thought on this and do you have any specific examples of some concrete actions you would recommend?
Marc: Saving the earth requires people understanding what's actually going on. Barriers of trust between politicians and the media are breaking down, and people need to be better equipped to separate fact from fiction. We need to re-teach people how to do basic research, to determine which sources are legitimate and how it is fine and actually empowering to admit when your preconceptions are wrong. Some of the biggest examples of this are the need to still convince so many people that human-led climate change is true (obviously it is), that we need to look into cleaner sources of energy (primarily less reliance on coal and oil), and that integration can yield huge benefits.
Peter: What's your best piece of advice for our blockchain and crypto audience?
Marc: Get a hardware wallet. Seriously, if you've got more than a couple hundred dollars/pounds/Euros, they are simply brilliant!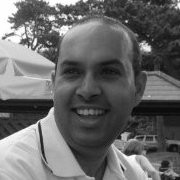 Marc Warne
Director
Bittylicious